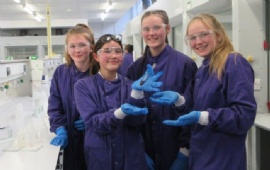 Four Year 10 girls have done well at a challenging competition organised by the Royal Society of Chemistry (RSC) at the University of Greenwich.
The students were given the tough task of identifying compounds that they'd never seen before - using a little data and their own tests.
The efforts of Weald students in the competition were commented on by the event judges.
In March, we'll be sending a team of students to the national final of Top of the Bench - after we outdid students from schools across the south east. It takes place at the University of East London. The final team has to be made up of: two Year 9 students, one Year 10 and one Year 11.