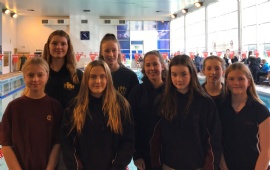 Congratulations to our swimming teams who took part in the county's swimming championship at the weekend in Margate.
Overall we won seven medals from nine events with one of our girls, Caitlin, doing remarkably well by finishing first in two events (Inter 100 fly and Inter 200 IM).
Other notably placed students were Sarah, Jessica, Izzie and Abigail.
When the event concluded, we finished fourth overall in the points table.
A huge well done to all of the girls for taking part and a special thank you to Mrs Ebbage and Mrs Everett for managing the teams for us.