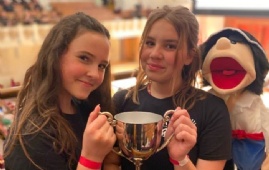 Congratulations to Alexa and Holly who are part of "Show of Hands", a British Sign Language Choir. Holly and Alexa are in the junior section of the choir (under16s) and won first place in the National Sign Language Choir Competition in London at the weekend, meaning they are now National Champions!
They signed to two songs, Supermarket Flowers and Happy Ending and also took part in the mixed age (children and adults) choir competition, achieving an amazing 3rd.
Well done, we are very proud of your amazing accomplishment!