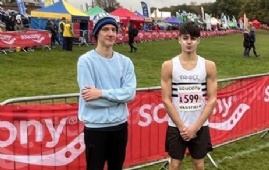 In early November Adam from Year 13 competed in the National Cross-Country relay at Mansfield, and although injured, David from Year 12 still went up to support his teammates. They had the following feedback on the event:
David: The National Cross Country Relay at Mansfield is the highest level an athlete can compete in at long distances along with national cross country and national road relays. This differs from the normal cross country as you're competing with your team instead of individually across an especially tough, physically demanding, fast and muddy course at Mansfield.
Although I was injured, I still went up with the team to help support and aid my coaches in filming the races and coaching athletes to allow the athletes to review and watch their own and team performances. This offered me a unique viewpoint from a coach's perspective, not an athlete's one, to offer the runners advice on their performances, to gain their insight on the course this year and to hear how they think they could have improved. This, in turn, helped me gain vital experience in coaching.
Adam: Recently, I raced in the National Cross Country Relay which is a high-class event with elite athletes such as Alex Yee (silver medallist in the Olympics) and Mohamed Mohamed (beaten Sir Mo Farah). The event was live-streamed on TV and there were radio broadcasters at the event. It was a very challenging and competitive race however, I soldiered through and completed it quickly. It wasn't my best race however it was fun to run in it again and I look forward to peaking round February where I will be travelling to Liverpool for the English cross-country nationals and Loughborough again.