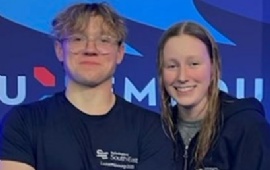 Luxembourg Euro Meet 27-29 January 2023
Two Weald 6th form swimmers, Matt (Y12) and Caitlin (Y13) represented the South East of England at the Luxembourg Euro Meet from 27 to 29 January.
A great weekend of racing and the chance to experience the big atmosphere of an international swim meet with music, flashing lights and pyrotechnics! They also got to meet 2 popular Olympic swim stars Ben Proud (GB) and Chad Le Clos (South Africa)!
Matt's highlight from his 3 individual races was setting a new PB in 50m breaststroke to finish 6th in Juniors; he was also part of the Mixed Medley Team who finished 9th.
Caitlin had 4 individual races and qualified for 2 x B finals and 1 x A Final. She loves the flashing lights and finals razzmatazz! She also raced in the Mixed Freestyle relay and Mixed Medley relay where her team just narrowly beat Matt's team into 8th place.