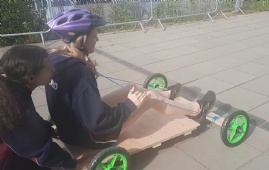 Students who attend our Year 9 STEM club from both campuses took part in the Go-Kart Challenge at Weald of Kent on 9 May.
Here is one student's report from the event:
We have been doing STEM club in Tonbridge making a Go-Kart from basic raw materials. Then we went to Sevenoaks campus and raced our karts together. It was exciting to meet the members of STEM club there and work with them. In the coming weeks we will be building and decorating a new go-kart to take part in the Soap Box Challenge at Dunorlan Park in late June. It's really fun and I would definitely recommend this activity to anyone that is interested!
Alana
We wish them all the best for the Soap Box Challenge in June and will let you know how they get on!