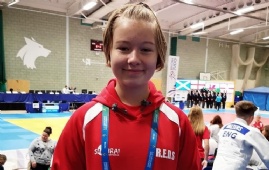 Amalie recently took part in the Commonwealth Judo Championships.
Amalie lost her second fight but it meant she got an automatic right to fight again to go through to the bronze medal fight. Unfortunately Amalie lost that fight but considering there were 19 girls in her category, and Amalie has only been doing judo for 3 years, she did really well, just missing out on a 7th place. Her coach said she was awesome.
Amalie was due to fight again, representing Weald at the regional British Schools but sadly she fractured her wrist at England squad training, so had to withdraw but she is still hoping to get a place next year. We wish Amalie well.