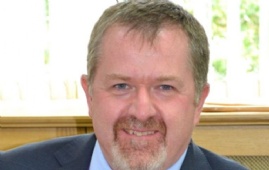 New Headteacher at Weald of Kent Grammar School
Weald of Kent are delighted to announce the appointment of Richard Booth as the new Headteacher of Weald of Kent Grammar School.
This appointment is a result of a rigorous recruitment process co-ordinated by Perrett Laver. A panel of trustees conducted the sift and interviews with shortlisted candidates meeting with pupils and both middle & senior leaders, whose feedback were taken into consideration as part of the interview process. The final three candidates were asked to give a presentation of their vision for Weald of Kent over the next five years. The panel was impressed with the very high quality of all shortlisted candidates but over the course of the two-day interview, Richard impressed staff and pupils alike at both Tonbridge and Sevenoaks campuses with his warmth, energy and vision for Weald. From an extremely competitive field he became the clear and outstanding choice to lead Weald as we continue to grow and develop.
Richard brings with him vast experience of senior leadership of grammar schools, including in an all-girls setting. Since 2016 he has been the headteacher at Wallington High School for Girls, a large girls' grammar school in South London, & prior to this he had senior leadership roles in both pastoral and academic settings at St Olave's Grammar School and latterly Townley Grammar School. Richard has lived in West Kent for most of his life and is excited about the opportunity to work in his local community and lead one of the foremost grammar schools in the area.
Under his leadership at Wallington High School for Girls he has significantly improved the academic outcomes for its pupils, leading them to a top performing school nationally at both GCSE and A Level. This has been achieved alongside significant developments to the support of the whole pupil with substantial reform to the pastoral education and wellbeing of pupils. Whilst at Townley Grammar School he was a key part of the SLG that delivered an improved Ofsted from 'Good' to 'Outstanding' and he has a particular interest in creating opportunities for meaningful student leadership.
Richard has this to say about becoming our new Headteacher: "I am thrilled to be appointed as the next Headteacher at Weald of Kent Grammar School. I see it as a great privilege to serve the school and its community to ensure that Weald of Kent is a happy, vibrant and highly successful school, where each and every student is able to thrive and flourish in a safe, nurturing and caring environment, filled with opportunity. I very much look forward to engaging with all stakeholders in planning our collective future and leading Weald into the next exciting chapter in its history".
Richard will be joining Weald of Kent on 1st May, and is keen to meet staff, parents and pupils as soon as possible. We will co-ordinate and communicate when he intends to visit to meet with staff, parents and pupils.
The Board have worked to put together interim arrangements to ensure a smooth transition. Sophie Clark has decided to step down from her role as Acting Headteacher with immediate effect. The Board would like to take this opportunity to thank her for her tireless support for the school throughout her 27 years at Weald of Kent Grammar School. Sophie brought a wealth of experience to the role of Acting Headteacher and has ensured a lot of positive changes have occurred in the last six months. We are incredibly grateful for everything she has done, including leading the recent Ofsted monitoring visit to the school in November. Sophie will continue to be leading support for the school in her original role as Senior Deputy Head.
We are very pleased to announce that Ken Macsporran will be taking on the role of Acting Headteacher until Richard's arrival. Ken's extensive experience and knowledge of the School will be vital in ensuring the School continues to improve over the next couple of months.
Yours sincerely
Mr S Doyle
Chair of Trustees