Dear All
Today I find myself reflecting on our first proper Open Evening in a number of years. Last night's open events at both campuses were very much in keeping with how Weald presented itself prior to Covid. We have received lots of lovely feedback both from current and prospective parents and what stood out most clearly from the feedback was how brilliant are students and staff are. It is a testament to you all that your children articulated so well for our many guests their thoughts about this school and the education that they receive here. I personally saw a student I taught a very long time ago, who is now an English teacher at another local school, who was visiting us for a third time with her own daughter. I also encountered a former student who is now at university who was visiting with her much younger cousin and wanted her to choose Weald as her school.
I always find the open events such a positive experience as we open our doors to the local community and share the improvement journey that we are all embarked on here with them. I have nothing but praise for the sterling efforts of the whole staff body as they worked tirelessly to present their individual subject areas and departments and to show why students here excel. A final mention needs to be made by me personally for the seven students, two from Year 7, two from Year 11 and three from the Sixth Form who spoke during the presentations in the main halls at both campuses. They were all superb and demonstrated unequivocally what being a Weald student looks like. For many parents and carers, it is the speeches from our students that really tell them what it is like to be at this school and I felt enormous pride listening to their individual speeches yesterday evening.
Next week we commence our next round of open events with open mornings at both campuses. Tonbridge's is on Wednesday morning and Sevenoaks's is on Thursday morning. I am very much looking forward to delivering my talk at Sevenoaks in person during the open mornings, as I used a recorded message for yesterday's presentations there, as I could not be in two places at once.
This week has seen the launch of Black History Month here at the Weald of Kent and our Black History month Group in the Sixth Form have lots of great things planned to celebrate it over the coming weeks. We have had students out on Monday on an Art Trip and many thanks to the staff who organised and led this trip. Students and staff were out on Tuesday for the Netball Tournament held in Rainham and thanks must be extended to all who were involved in organising this for the students. Today, we have Kidenza in at both campuses working with our Year 7 students on extending their knowledge and understanding of music. Thank you to Mr Crowhurst and his team for organising it. In addition, we have students and staff participating in their Silver Assessed expedition for the Duke of Edinburgh Award and thanks need to go to Mrs Grant and her team for this event.
I started this week by attending Student Council at our Sevenoaks campus and it was wonderful to hear the thoughts of our student body on key issues that relate to them. One student had been extremely proactive and had surveyed several of the form groups in her year group and had statistics to share with the whole of the council in relation to issues that mattered particularly to her year group. Ably led by Lily, our Head Student and supported by Lara, our Deputy Head Student and supported by the other members of the Student Leadership Team, we have a Student Council that will be engaging the students actively in decisions throughout this year, and they intend to launch a survey shortly to help inform them on the areas that they have set as priorities to work on.
We are interviewing next Thursday for a Director of HR who will be joining the Senior Leadership Group here at Weald and I hope to be able to give you an update on the appointment in my blog next Friday. I will be involved in the interview process, alongside both Deputy Headteachers, and we are going to include some of our students in the interview process too. I believe that strong student voice is an essential part of a successful school and there will be a student panel as part of the recruitment process for all roles that we appoint in the school. This will be the first student panel for a number of years, and it is fascinating to hear the students' feedback on candidates, and I am looking forward to them being more actively involved in this aspect of the school's work.
The school has received a request to share a link with you all regarding a consultation over 20mph restrictions and other traffic-calming measures in Sevenoaks. KCC have put together a proposal, and you can share your views via this link: https://letstalk.kent.gov.uk/sevenoaks-town-wide-20mph-limit-and-traffic-calming
Finally, I want to end this week's blog by linking back to some news I shared last week, we have another student who attained highly commended in the University of Oxford Spanish creative writing competition, Sofia Smith in Year 11. Many congratulations to her and to Ms Camporro-Fernandez who encouraged her students to enter the competition. The photo below shows Ms Camporro-Fernandez with Lilia and Julia who are both in Year 9 with their poems.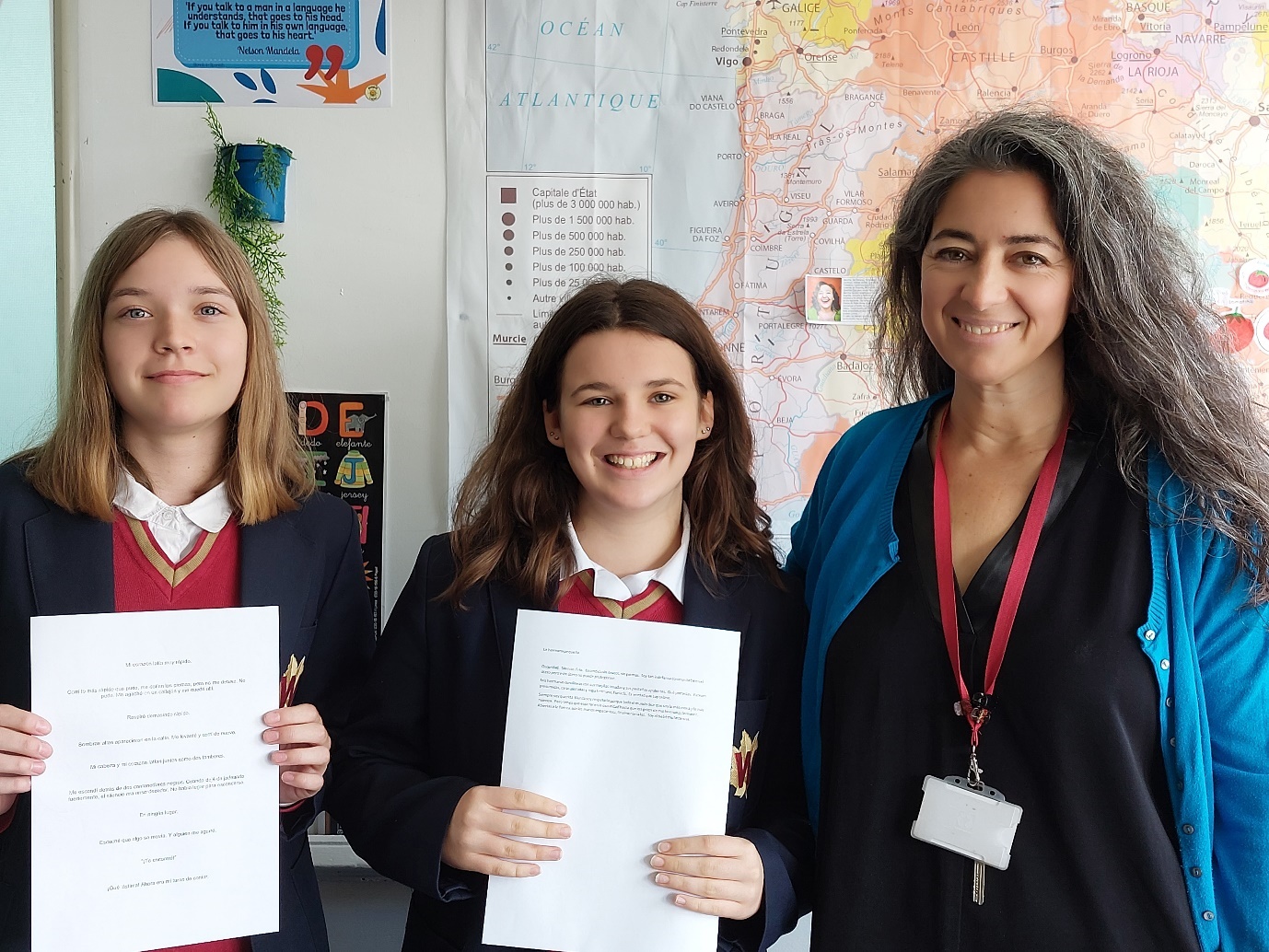 Have a wonderful weekend.
Yours sincerely
Mrs SA Clark